[fusion_builder_container background_color="#29292a" background_image="" background_parallax="none" enable_mobile="no" parallax_speed="0.3″ background_repeat="no-repeat" background_position="left top" video_url="" video_aspect_ratio="16:9″ video_webm="" video_mp4="" video_ogv="" video_preview_image="" overlay_color="" overlay_opacity="0.5″ video_mute="yes" video_loop="yes" fade="no" border_size="0px" border_color="" border_style="solid" padding_top="20″ padding_bottom="" padding_left="0″ padding_right="0″ hundred_percent="no" equal_height_columns="no" hide_on_mobile="no" menu_anchor="" class="" id=""][fusion_builder_row][fusion_builder_column type="1_1″ background_position="left top" background_color="" border_size="" border_color="" border_style="solid" spacing="yes" background_image="" background_repeat="no-repeat" padding="" margin_top="0px" margin_bottom="0px" class="" id="" animation_type="" animation_speed="0.3″ animation_direction="left" hide_on_mobile="no" center_content="no" min_height="none"][fusion_text][fusion_dropcap color="" boxed="no" boxed_radius="8px" class="" id=""]L[/fusion_dropcap]et's look at a few of those brands, as well as a UK newspaper's website, which is powered by WordPress and seen massive growth over the past few years.[/fusion_text][/fusion_builder_column][/fusion_builder_row][/fusion_builder_container][fusion_builder_container background_color="#29292a" background_image="" background_parallax="none" enable_mobile="no" parallax_speed="0.3″ background_repeat="no-repeat" background_position="left top" video_url="" video_aspect_ratio="16:9″ video_webm="" video_mp4="" video_ogv="" video_preview_image="" overlay_color="" overlay_opacity="0.5″ video_mute="yes" video_loop="yes" fade="no" border_size="0px" border_color="" border_style="solid" padding_top="" padding_bottom="20″ padding_left="0″ padding_right="0″ hundred_percent="no" equal_height_columns="no" hide_on_mobile="no" menu_anchor="" class="" id=""][fusion_builder_row][fusion_builder_column type="1_2″ last="no" spacing="yes" center_content="no" hide_on_mobile="no" background_color="" background_image="" background_repeat="no-repeat" background_position="left top" hover_type="none" link="" border_position="all" border_size="0px" border_color="" border_style="solid" padding="" margin_top="" margin_bottom="" animation_type="0″ animation_direction="down" animation_speed="0.1″ animation_offset="" class="" id=""][fusion_title size="1″ content_align="left" style_type="default" sep_color="" margin_top="" margin_bottom="" class="" id=""]Facebook Newsroom[/fusion_title][fusion_separator style_type="shadow" top_margin="10″ bottom_margin="40″ sep_color="#fd0404″ border_size="" icon="fa-download" icon_circle="" icon_circle_color="" width="" alignment="center" class="" id=""/][fusion_imageframe lightbox="no" lightbox_image="" style_type="none" hover_type="none" bordercolor="" bordersize="0px" borderradius="0″ stylecolor="" align="none" link="" linktarget="_self" animation_type="0″ animation_direction="down" animation_speed="0.1″ animation_offset="" hide_on_mobile="no" class="" id=""]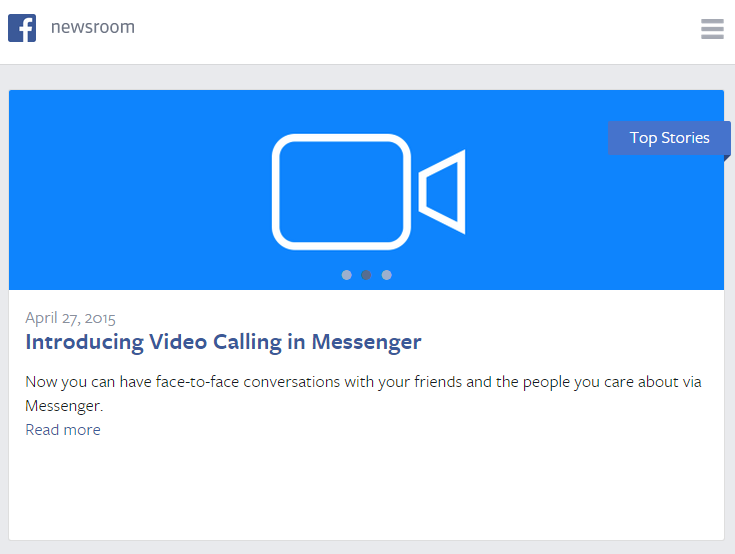 [/fusion_imageframe][fusion_separator style_type="shadow" top_margin="40″ bottom_margin="20″ sep_color="#fd0404″ border_size="" icon="fa-download" icon_circle="" icon_circle_color="" width="" alignment="center" class="" id=""/][fusion_text]
Facebook uses it to power the company blog. You can read it here.
The content on the blog dates back to 2006, but the Newsroom domain has only been around since 2012, and Facebook started using WordPress in early 2014. Before then, the Facebook blog looked just like Facebook.
The blog covers just about every change Facebook has made to the News Feed, the hows and whys of the various product launches and changes, as well as keeping readers up to date with what's going on inside the company.
Alongside the blog, there's company info, products, and a directory section featuring some interesting Facebook pages.
I reckon anyone who's used WordPress for a little while would know straight away it's powered by WordPress – the content sidebar layout gives the game away.
[/fusion_text][/fusion_builder_column][fusion_builder_column type="1_2″ last="yes" spacing="yes" center_content="no" hide_on_mobile="no" background_color="" background_image="" background_repeat="no-repeat" background_position="left top" hover_type="none" link="" border_position="all" border_size="0px" border_color="" border_style="solid" padding="" margin_top="" margin_bottom="" animation_type="0″ animation_direction="down" animation_speed="0.1″ animation_offset="" class="" id=""][fusion_title size="1″ content_align="left" style_type="default" sep_color="" margin_top="" margin_bottom="" class="" id=""]Google Ventures[/fusion_title][fusion_separator style_type="shadow" top_margin="10″ bottom_margin="40″ sep_color="#fd0404″ border_size="" icon="fa-download" icon_circle="" icon_circle_color="" width="" alignment="center" class="" id=""/][fusion_imageframe lightbox="no" lightbox_image="" style_type="none" hover_type="none" bordercolor="" bordersize="0px" borderradius="0″ stylecolor="" align="none" link="" linktarget="_self" animation_type="0″ animation_direction="down" animation_speed="0.1″ animation_offset="" hide_on_mobile="no" class="" id=""]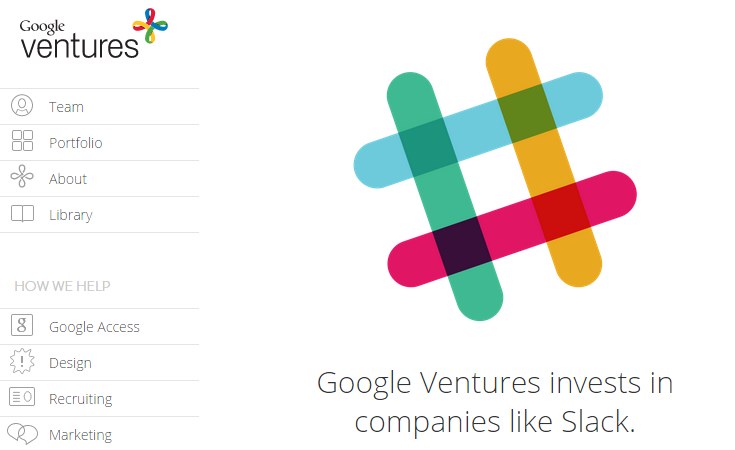 [/fusion_imageframe][fusion_separator style_type="shadow" top_margin="40″ bottom_margin="20″ sep_color="#fd0404″ border_size="" icon="fa-download" icon_circle="" icon_circle_color="" width="" alignment="center" class="" id=""/][fusion_text]
The Google Ventures part of the Google brand is a funding arm for startups. At the time of writing GV partners with 280+ companies. Some of which you might recognize:
About.me
Pocket
Optimizely
HubSpot
There are many more. And they're not all from the online space. Some are from the life, science and health sector. Including Foundation Medicine, which is "leading a transformation in cancer care."
[/fusion_text][fusion_title size="3″ content_align="left" style_type="default" sep_color="" margin_top="" margin_bottom="" class="" id=""]Other Notable WP Users[/fusion_title][fusion_text]Clients who you will have heard of, but who I haven't mentioned so far, include:-
NBC Sports
TED
CNN
TIME
Dow Jones
UPS
[/fusion_text][/fusion_builder_column][/fusion_builder_row][/fusion_builder_container]